About Angela Pifer | Nutrition Northwest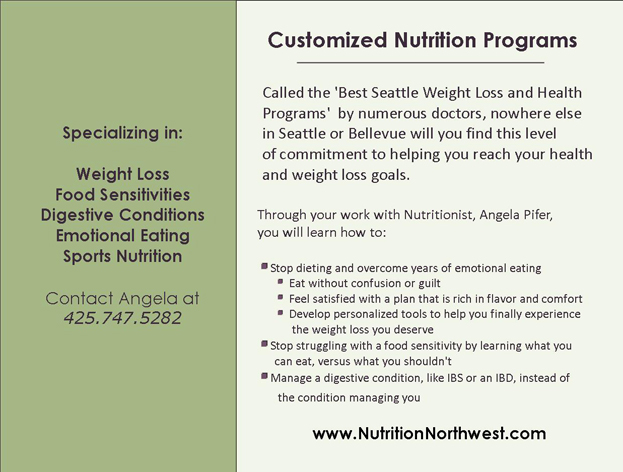 Angela Pifer, MSN, C.N. is a certified nutritionist practicing in Washington State out of Red Cedar Wellness in Bellevue and the Lake Union Wellness Center in Seattle. Founder of Nutrition Northwest, In-House Nutritionist to the International Ballet Theatre, sports nutritionist to AV Performance Tennis and Columbia Athletic Club (Silver Lake) and is the Nutrition Advisor to the Nationally Syndicated Talk Show, The Dr. Pat Show.
She specializes in the development of customized nutrition programs, offering the continued support and guidance to help each of her clients meet their lifestyle goals. She has worked extensively with young and adult athletes, emotional eating, digestive conditions (IBS, IBD, Crohn's), diabetes, food sensitivities, weight loss, detoxification and countering the effects of menopause.
Angela joined Red Cedar Wellness Clinic in January of 2010 – with a focus on women's health and oncology.
Angela is a sought after public speaker and a frequent contributor to local and national health and fitness publications. She also consults with large companies on how they can incorporate corporate wellness into their employees lives.